Ipswich Caribbean Association could become car park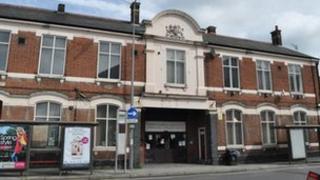 A community centre in Ipswich could be demolished to make way for a car park.
The Ipswich Caribbean Association (ICA) building on Woodbridge Road has been closed since 2010.
Ipswich Borough Council has applied for planning permission, saying it cannot afford to spend £1.25m on renovating the building.
Ben Gummer, Conservative MP for Ipswich, said a car park was the "last thing" Ipswich needed and the site should be used for housing.
He said the land was the "perfect site for some town centre homes".
"It's about time the borough council showed a bit of vision, rather than having another derelict site in the town centre flattened to make way for a car park which is hardly used.
"We are overflowing with car parks in Ipswich."
David Ellesmere, leader of the Labour-run council, said other options considered for the community centre were too expensive.
'Poor condition'
The council estimates it will cost between £70,000 to £90,000 to demolish the ICA and turn it into a car park.
It would hope to recoup the money through charges within four years.
Mr Ellesmere said: "Our view was that this had been a great community facility and if we could reopen it we'd like to do so.
"It is in pretty poor condition and, sadly, we took the view that, given the financial climate, we just couldn't afford to do that."
Mr Ellesmere said it was a "great shame" but blamed the previous Conservative-Liberal Democrat administration, which withdrew its annual funding of about £50,000 in 2010.
"Decisions that were taken before we took control of the council meant the moment had passed when it could have been saved," Mr Ellesmere said.
He said a final decision would be made in the next two months.