Illegal sales of alcohol in Suffolk reach record low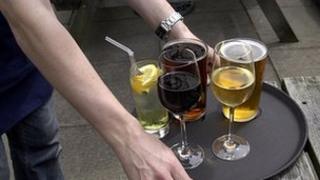 Illegal sales of alcohol to underage teenagers in Suffolk have reached a record low as "traders are becoming more vigilant."
Latest figures from Trading Standards show only 7% of outlets failed test purchases by the authority, less than half than in the previous 12 months.
Trading Standard's said the sales drop, was in part, the result of successful prosecutions against traders.
Spokesperson James Garret said: "The message seems to be hitting home."
The process of test purchasing happens in venues of across Suffolk that have been brought to the attention of Trading Standards for selling alcohol to underage drinkers.
Speaking to BBC Radio Suffolk Mr Garret said: "It's just part of what we do with the police, along with advice visits, when we receive intelligence relating to premises.
"Traders and licensees are always told when a success comes from a test purchase and a member of staff successfully refuses one of our volunteers, not just when people are unfortunate enough to sell.
"Traders are becoming more vigilant, perhaps assisting their staff a little bit more. Training is very important.
"The purchases will continue and hopefully we'll reduce the failure rate even more in the future."