Woodbridge Tide Mill reopens after £1.25m renovation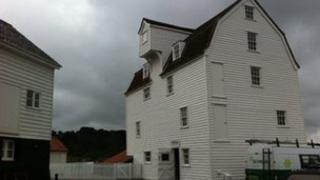 A Suffolk working mill and museum is reopening to the public following a £1.25m renovation project.
Woodbridge Tide Mill's new four-tonne oak wheel will be used to grind corn for the first time since the 1970s.
A mill has been on the site since the 1160s and the restoration took 18 months to complete.
Nigel Barratt, vice chairman of the mill, said: "We've blended what will be a fully functioning working mill and a visitor exhibition attraction."
A £955,800 grant from the Heritage Lottery Fund helped fund the new wheelhouse, protect the building's foundations and create the interactive exhibits.
The wheel itself measures about 20ft in diameter and was built at the International Boatbuilding Training College in Lowestoft.
Mr Barratt said: "This is probably the first wooden water wheel of this size to have been made in a generation or so."