Suffolk cattle cruelty farmer gets ban and suspended jail term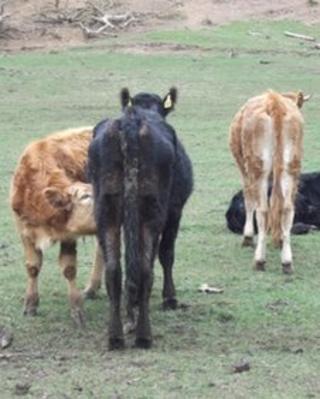 A Suffolk farmer who caused unnecessary suffering to cattle has banned from keeping farmed animals for life.
Ian Ogilvie, 38, of Thorpeness, allowed 40 cows and calves to get "visibly thin" and did not keep veterinary records, Suffolk County Council said.
He admitted nine cruelty offences at Ipswich magistrates on Monday and was sentenced to two months in prison, suspended for one year.
The cows have since been nursed to health at a Norfolk sanctuary.
Speaking after the hearing, the county council said it had closely monitored the cattle since February last year, following concerns from the public.
It said it had made "many visits" to advise Ogilivie and help resolve the situation, but the cattle were showing signs of distress in March 2011.
Ogilvie did not provide adequate food, ignored the council's requests for details of cattle movement on and off his land, and failed to report deaths.
It said his failure to keep a veterinary medicines record breached the Animal Welfare Act 2006, the Cattle Identification Regulations 2007 and the Veterinary Medicines Act 2005.
'Completely unrecognisable'
The council said animal health was assessed by vets using a score graded 0 to 5, with a "normal" animal generally scoring 2.5 to 3.
The cattle found on Ogilvie's farm scored 1 or less.
The animals were signed over to Suffolk Trading Standards, with a neighbouring farmer helping to care for them.
Once they were fit to be moved, they were given a permanent home at Hillside Animal Sanctuary in Frettenham, Norfolk.
Colin Spence, portfolio holder for public protection, said: "We would like to pass on our sincerest gratitude to Hillside Animal Sanctuary for providing these animals with a safe and healthy environment in which to recover.
"We have since visited Hillside and are happy to say that some of the cattle are completely unrecognisable with the extra weight they have gained and their glossy coats."