Ipswich Town renames stand after Sir Alf Ramsey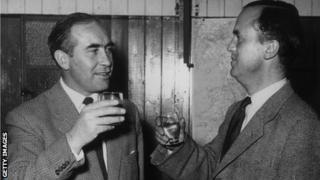 Ipswich Town has renamed a stand in honour of Sir Alf Ramsey, who led them to the 1962 First Division title.
The Sir Alf Ramsey Stand will replace what is currently known as the South Stand at Portman Road.
Sir Alf managed the club from 1955 to 1963 before going on to win the World Cup with England in 1966.
Ray Crawford, Town's all-time leading goalscorer, said: "Alf was a fantastic man - a one off. He always used to get the best out of everybody."
Sir Alf died in 1999 at the age of 79.
In an interview with BBC Radio Suffolk, Crawford said the Ipswich team of 1962 would put in extra training sessions to work on the areas pointed out by Sir Alf.
'Bit of a party'
"We didn't have to go back in the afternoons," he said. "But he got us so much working for each other that we'd go work on the little things he told us.
"He didn't shout and bawl, he made you think about the game and what you should be doing."
Crawford will be presented to the Portman Road crowd ahead of Saturday's match with Barnsley, along with his 1962 teammates Andy Nelson, Larry Carberry, John Compton, Doug Moran and Ted Phillips.
He said that celebrations were low key in 1962 after the team sealed the championship with a 2-0 win against Aston Villa.
"Alf, alongside us, didn't think we'd win the league at that time," said Crawford.
"Alf got us out to Felixstowe and we went out and had a bit of a party. There was a fantastic group out there, I can't remember their name, and we asked them to sing a song for us but they wouldn't.
"We all got drunk that night, so we wouldn't have been able to enjoy the music anyway."