Air ambulances in the East to fly for longer in the summer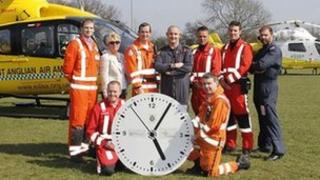 Extended air ambulance support will be available in the East of England this summer.
A service will run from 07:00 BST until sunset and will be provided by East Anglian Air Ambulance (EAAA) and Essex and Herts Air Ambulance Trust (EEAST).
Cover from the four helicopters usually ends at 17:00 BST.
EAAA chief executive Tim Page said the extended service was trialled last year: "Accidents and medical emergencies can happen at any time."
Mr Page added that EAAA hoped to further extend its full-time cover to include night-time support.
It will soon have two more helicopters and will seek approval from the Civil Aviation Authority to fly at night.
The summer service will also be supported by the East of England Ambulance Service NHS Trust and will cover Bedfordshire, Cambridgeshire, Essex, Hertfordshire, Suffolk and Norfolk.