Bury St Edmunds' Theatre Royal replaces 'uncomfortable' seats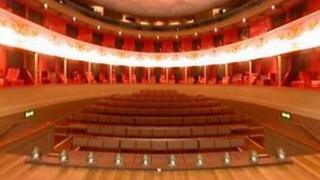 Five years after a £5m renovation, the Theatre Royal in Bury St Edmunds is to replace its "uncomfortable" seats.
Simon Daykin, executive director, said there had been "a lot of comments about levels of comfort" at the Georgian-era theatre.
"The seating could be one of the things that holds people back from enjoying the great art that we provide for the community of Bury St Edmunds," he said.
A total of 191 seats in the dress and upper circles will be replaced in 2013.
"We are going to refine a new design with input from the community," said Mr Daykin. "We'll use the quiet summer period next year to start replacing the seats."
Mr Daykin said he was pleased the theatre was running at an average capacity of 65% but said there was "always scope for improvement".
The theatre had its Arts Council funding reduced last year - down from £127,590 in 2011/12 to £120,000 a year between 2012/13 to 2014/15.
Mr Daykin said: "You can get easily sidetracked with feeling sorry about the level of funding coming to the arts, but it's an opportunity for the organisation to be more creative."