Travellers in Bury St Edmunds face council eviction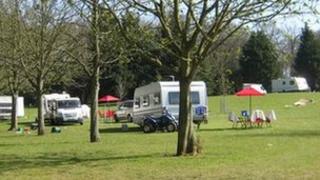 A group of travellers is facing eviction after moving onto an open space near a hotel in Bury St Edmunds.
St Edmundsbury Borough Council said it was alerted on Monday to the presence of about ten caravans at Symonds Road, Moreton Hall.
The police said they are working with the local authority, neighbouring householders and the travellers to prevent "community tension".
A council spokesperson said: "A lock had been cropped and bollards removed."
They added: "Council officers visited the site and told those present that camping on public open space was not permitted and that all necessary steps are being taken to evict them as swiftly as possible.
"A regular check is being kept on the site and the council is now working with the police and the traveller welfare officer to clear the site as speedily as possible."
Sgt Davy Hill, from Suffolk Police, said: "Local officers are working closely with the travelling community and nearby residents in a proactive approach to prevent any potential community tension in the area.
"We will be liaising with St Edmundsbury Borough Council in the coming days as the site is examined and a decision is made regarding what is best for the community in the long-term."
No-one from the travelling community was available to talk when the BBC visited the land.
Joseph Jones, a spokesman for the national Gypsy Council, said: "As long as councils across the country don't meet their quota for site provision, then these problems are going to continue.
"Just because you make provision in one area, that doesn't mean the lack of provision in another area isn't going to overspill."