Stolen Walberswick village sign found at garage sale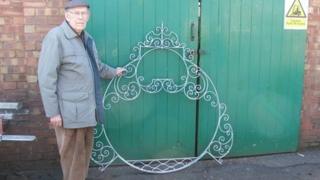 A Suffolk village sign stolen in the 1980s has been found by a family from Kent at a garage sale.
The sign was erected in Walberswick in 1953 to commemorate the coronation of Queen Elizabeth II.
David Webb, chairman of Walberswick Parish Council, said the new owners had not known the village existed.
He said: "The family were going on holiday to Norfolk and saw a signpost to Walberswick - they then realised what they had belonged to the village."
The frame of the sign is made of steel and the design, by Clifford Russell, features a crown and a copper ship.
Mr Webb said the ship is based on HMS Basing (later HMS Guernsey), which he said was built in Walberswick for Oliver Cromwell's Commonwealth army.
A smaller replica was placed near the village green after it was presumed the original would never be seen again.
Mr Webb said the family, from the Isle of Grain, were happy to donate the piece to the village.
They have been invited to attend an event in June when the original sign, which has now been restored, will be given a new home opposite St Andrew's Church.
JT Pegg and Sons in Aldeburgh has been restoring the sign.
Dennis Pegg, 92, said it was "no ordinary sign" and he was glad it had not been melted and sold on.
"It was very fortunate much of it was made from copper and brass, they're materials that will stand out in the weather and deteriorate very little," he said.
The restored sign will be unveiled on 2 June.