River Deben tops Environment Agency drought risk list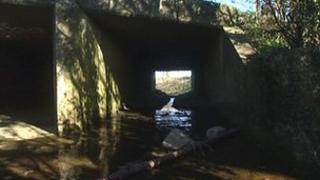 A river in Suffolk is at the most threat from drought conditions in East Anglia, according to the Environment Agency.
The River Deben is down to a trickle near its source at Debenham.
Marcus Sibley, from the agency, said: "Conditions are incredibly dry. It's almost unprecedented."
Bore holes may be needed to supply water to the 26 mile river, but the agency said it would not try to use them until the summer.
The agency said the drought conditions followed two dry winters and it receiving only about 70% of the expected rainfall at this time of year.
Dying eels
Mr Sibley, area drought manager, said: "We would expect the Deben to dry up at the top end in the summer months, but for it to be virtually dry in March is not good at all.
"In 1997, about 15 miles of the river was completely de-oxygenated and we had lots of fish dying and the eels were literally crawling up the banks to get out of the water.
"I'm worried we may see those sorts of conditions return."
Penny Hemphill, of Suffolk Wildlife Trust, said: "Three weeks ago the Deben was flooded and three weeks later the water has dropped considerably."
She said water voles would be vulnerable to predators without plants to hide them and otters could see their food source die out if the conditions continued.
The Environment Agency and Anglian Water each have bore holes which can be used to replenish the Deben.
The agency's bore hole at Earl Soham can supply 4,000 tonnes of water a day, but it is limited to a maximum of 130 days a year.