Megan the dog spreads anti-litter message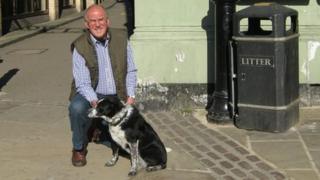 A dog which collects rubbish and places it in bins is helping with an anti-litter campaign.
Megan, a six-year-old border collie, picks up cans, cardboard and even glass while on walks with her owner Ken Pople, of Little Cornard, near Sudbury.
"I can throw her a ball, she'll run towards it, see a can and think 'I'll pick that up myself'," said Mr Pople.
Megan is visiting schools as part of Suffolk County Council's Spring Clean Fortnight.
Mr Pople said he acquired Megan from a rescue home when she was about 10 months old.
"She was a problem dog, a bit of lunatic but has turned out well," he said. "She just likes to be busy."
Megan is the second dog Mr Pople has owned who has been able to demonstrate the skill.
"I had a border collie, Toff, and he used to pick up litter and take it to the dustmen," he said. "Meg is a carbon copy of him - but she's almost surpassed him."
He said that Megan would help to relay the anti-litter message to young people in a way that adults could not.
"She actually went up to a group of youngsters on the meadow and one had thrown a can," he said. "She picked the can up, ran away with it and put it in the bin.
"One of the lads said 'I don't believe that'. When they left they put the other cans in the bin and gave me the thumbs up."