Asher Picort jailed for father, policeman and dog stab attacks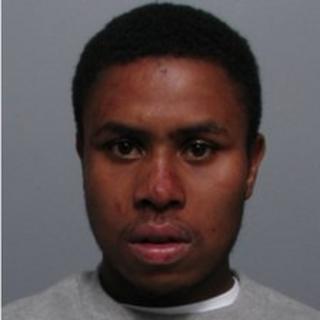 A 21-year-old man has been jailed for five years after admitting stabbing his father, a police officer and a police dog in Suffolk.
Unemployed Asher Picort, of Oulton Road, Ipswich, lashed out at PC Steve Jay and his dog Aman after a one-mile chase, Ipswich Crown Court heard.
Police had been called after Picort stabbed his father on 25 October.
Judge John Holt awarded PC Jay £500, adding an "appropriate amount" should be given to the dog.
"PC Jay appears to me to have been remarkably brave," said Judge Holt.
Picort admitted inflicting grievous bodily harm on his 47-year-old father, Robert, and to wounding PC Jay with intent to cause grievous bodily harm.
He also pleaded guilty to damaging property in relation to the attack on the six-year-old German shepherd dog.
'Twisted knife'
Robert Picort had challenged his son as he left the family home with a kitchen knife, the court heard.
Picort stabbed his father in the abdomen, chest, right groin and left thigh before being pursued by police through several streets.
Godfried Duah, prosecuting, said: "At some points, the defendant would stop and then wave his knife at police officers.
"Members of the public were also on the roads in question, which caused the police officers some concern because they were unsure what the defendant would do next."
Picort was eventually stopped in Nacton Road.
"He was told repeatedly to drop the knife but refused," said Mr Duah.
The police dog was released after Picort "began to move forward".
The court heard Picort stabbed the dog and "twisted the knife", causing "further complications" for the animal.
PC Jay then intervened and pinned Picort against a wall.
The officer sustained four stab wounds to his left arm, bite marks on his left shoulder and left thumb and minor "bumps and grazes" to his face.
The dog lost "lots of blood" and was so distressed it attacked the vet while being treated, the court heard.
Robert Picort recovered later after being treated in hospital for his injuries.
PC Jay and Aman have since returned to duty having made a full recovery.
After the case, PC Jay said: "My immediate instinct when I saw Aman being stabbed was to step in to try to control the offender and disarm him."
Suffolk Assistant Chief Constable Paul Marshall said: "The actions of PC Steve Jay on the night in question are testament to his professionalism and commitment to his work."