Ipswich Museum rhino Rosie given replacement horn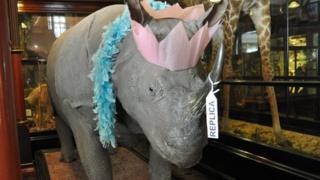 A rhino at Ipswich Museum has been given a new horn, after thieves stole the original last July.
It is thought the rhino, named Rosie, was targeted because horns can be worth £250,000 on the black market, where they are sold for medicinal purposes.
The replacement horn is made of glass fibre and was fitted days before the museum marked 105 years since Rosie arrived in Ipswich.
Councillor Bryony Rudkin said: "It's an absolutely wonderful job."
Jayne Austin, collections manager, said the day of the robbery was the worst day she had experienced at the museum.
"Rosie is such an iconic object and being a person who has grown up in Ipswich, knowing her and loving her, it was such a sad day," she said.
"Now she's had her dignity well and truly restored."
Ms Austin said she did not think Rosie's original horn would ever be traced but said anyone using it for medicine might be in for a shock.
She said: "It could do more harm than good, as Rosie's horn would have been treated in the Victorian period with substances such as arsenic."