West Suffolk hailed for 'prospering' businesses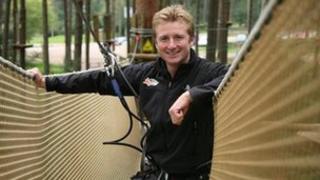 West Suffolk is one of the best areas in the country for new businesses, a report has revealed.
Research commissioned by the BBC by data analysts Experian found Forest Heath and St Edmundsbury to be the top two places for "business champions".
These are "small but rapidly growing firms" that "show entrepreneurial skill, appetite for business risk and real international outlook".
The report said these businesses "could prove key to rebalancing the economy".
One success story is treetop adventure company Go Ape, which started in Rougham near Bury St Edmunds and now has 27 courses in the UK and three in the USA.
'Fewer hoops'
Co-founder Tristram Mayhew said Forest Heath council helped get their first centre launched in Thetford Forest: "We were lucky starting where we did, because looking back they were much less bureaucratic and red-tapey than many other places.
"We had to jump through fewer hoops than in many other locations."
Mr Mayhew praised the council for supporting new businesses and for understanding their needs.
"For us to open for Easter in our first year was critical to our cash flow and hitting the season running," he said.
"We were very short on time and wouldn't have had time for the full planning process, which can take 12-16 weeks, which I wasn't aware of having not done it before.
"The council took a brave view that planning permission wasn't required.
"Since then, apart from Sherwood Forest, everywhere else we've had to go through lengthy planning permission, even though it's all the same national guidance."
Both Forest Heath District Council and St Edmundsbury Borough Council expressed their delight at being highlighted by the report.
James Waters, Conservative leader of Forest Heath, said: "I'd like to turn around and say it's all down to us, but it's not, it's a community effort.
'Cambridge effect'
"About four years ago we started working with economic development in the district and since I've been leader we've tried to be more business focused."
Mr Waters said demand for small business units in Newmarket outweighed the number available.
Both councils said the proximity to the A14, Stansted Airport and Cambridge are beneficial.
Sara Jane Mildmay-White, Conservative deputy leader of St Edmundsbury Borough Council, said: "I think we're lucky because we have a knock-on effect from Cambridge.
"It's expanded to capacity and when businesses are looking to move out, we're sitting very nicely within the sub region.
"Housing is much more affordable and business rates are as well."
With regards to start up businesses, the Experian report also found that the two districts enjoyed the highest proportion of those likely to succeed.
The Experian report also states that Mid Suffolk saw the biggest increase in businesses from 2010 to 2012 - from 5,454 companies to 5,725.
Insolvency rates in Suffolk are below the national average, with only Ipswich slightly above at 1.2% of insolvencies last year (27 businesses out of 6,485).