Dog found in roadside rubbish bin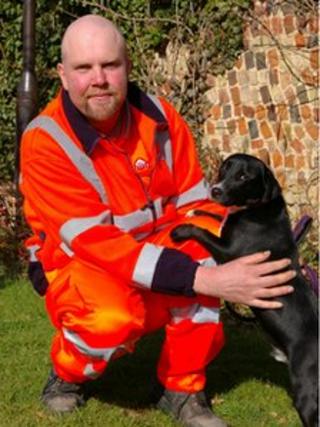 A dog has been found alive in a rubbish bin on the A14 near Stowmarket.
Jason Bloomfield said he got the "shock of his life" when he found the dog while working for Mid Suffolk District Council's street cleansing team.
The 40-year-old is taking care of the dog, nicknamed Dusty, and said he would be delighted to keep him if the council could not find his owner.
"He's took to me and won't leave my side," Mr Bloomfield said. "He's totally bonded with me."
He said he believed Dusty would not have been discovered on Wednesday if there had not been bad weather.
He had been collecting litter on the verge of the A14 but had to stop when spray from lorries made conditions too dangerous to work.
'Death sentence'
"On our last bin near Stowmarket I got my key and unlocked the bin as normal," he said.
"I got the shock of my life. Something jumped up in the bin - I didn't know if it was a rat or what it was."
Mr Bloomfield said he was shaking as he slammed the door shut to prevent the animal from bolting towards the road.
"We looked in the top of the bin and there were these big brown eyes looking up at me," he said.
"He looked well fed and looked after but there were a lot of scratch marks inside the bin where he had been trying to get out."
Dusty did not have a collar and had not been tagged with a microchip.
A vet is due to check him to try to determine his age.
Mr Bloomfield said there was "no way" Dusty could have entered the bin on his own as it was locked and resembled a "big letterbox".
"I can't believe anyone human would do that - he was basically sentenced to death," he said.
"The bins aren't usually emptied on a Wednesday, they're weekly bins emptied on Friday. He could have been dehydrated and perhaps dead by then."