Ipswich Hospital given £5m to improve sterilisation unit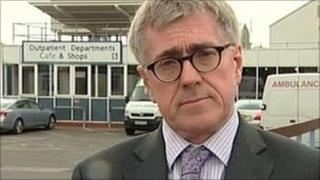 Ipswich Hospital has been awarded £5m of government funding to improve the way it cleans surgical instruments.
The money is part of a £330m investment programme in England and comes a month after the hospital received £5m for a new heart facility.
Chief Executive Andrew Reed said the money would bring the decontamination unit up to European standards.
He said: "When you have an operation you have to ensure you have the cleanest possible instruments."
Mr Reed said it was a "great boost" to the hospital and meant the decontamination service would not be outsourced.
"It's one of those units that isn't very high profile but does demonstrate there are many things that go on behind the scenes that are important."
Mr Reed said the investment was welcome news after a difficult few months at the hospital, which has to find £16m savings from its £228m budget this year.
"It's been a while since we had some significant investment of this nature," he said.
"The secretary of state has visited us a few times and has always been very positive about us.
"It's still very tight but we've seen huge improvements in our finances since the really dark days of the summer where we started to hit big financial problems, but we have to keep going."