Ipswich's Riverside Clinic minor injuries service could move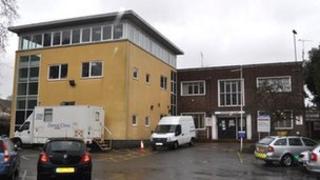 Plans to move Ipswich's minor injuries service, based at the waterfront, to Ipswich Hospital have been put forward.
The Riverside Clinic was set up by the NHS in 2006 with the aim of taking pressure off the hospital's accident and emergency department.
Tracy Dowling, from NHS Suffolk, said: "The amount of people not going to the hospital has actually been quite small."
A public consultation will take place until 20 April.
Ms Dowling, director of strategic commissioning, said: "The expectation [in 2006] was that people would go to Riverside instead of the hospital, but this was not more cost effective and resulted in a duplication of capacity and an increased annual spend of £1.2m.
'Site to site'
"It's partly about money, but it's also about making sure the hospital has a very robust level of activity and has a strong minor and major A&E service."
Dr Imran Qureshi, Ipswich GP, said: "Basing the service at Ipswich Hospital will mean patients will no longer be passed from site to site.
"It would be less fragmented and it is our view that this will provide a better, more integrated service for patients.
"We recognise there may be other impacts on patients, which is why we want to hear from people in this engagement process."
The NHS said the Riverside's minor injuries unit staff would transfer to Ipswich Hospital, while the Riverside would still be used as a base for out-of-hours GPs and a dental service.