Bartlett Hospital in Felixstowe to be turned into flats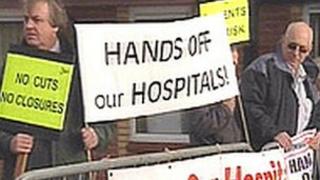 Approval has been given to turn a former hospital in Felixstowe into flats, despite a campaign by local people to keep it for health use.
The Bartlet, which was built using a bequest to the town, was closed by the NHS in 2006 despite opposition from the Save The Bartlet group.
Suffolk Coastal District Council has granted planning permission to create 31 flats and homes on the site.
NHS Suffolk said it would now try and sell the site to a property developer.
The hospital was founded in 1926 as a convalescent home using a bequest of £250,000 from Dr John Bartlet, a local surgeon.
Ian Heeley, from the Save The Bartlet campaign, said: "I would like it to have been put back as a rehabilitation convalescence centre for Ipswich and surrounding area hospitals.
'Deteriorating rapidly'
"It's going to be a fat cat getting fatter over this property development."
As part of the reorganisation of healthcare in Felixstowe, NHS Suffolk said it had spent £1.75m on facilities at the Felixstowe Community Hospital.
It said it had been spending £90,000 a year on security and maintenance at the empty Bartlet building.
An NHS spokesperson said: "With more people saying they wished to be treated at home where appropriate and the fact that the town could not sustain two hospitals, it was decided after public consultation to close the Bartlet and upgrade the then Felixstowe General Hospital.
"The granting of planning permission [at the Bartlet] means the historic and important site will now be protected.
"We will now actively seek a buyer who can create a sensitive residential development that will be an asset to Felixstowe."
Bob Snell, chairman of the council's planning committee, said: "This is a listed building that has been empty for six years and is deteriorating rapidly and it desperately needs a secure future.
"There's been no offer of alternative community use for the building and converting it in the way that is proposed by NHS Suffolk is a means of saving the building from even more rapid decline."