London 2012: Paralympic flame to visit Needham Market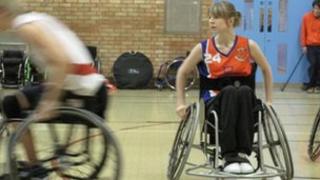 A Suffolk town has been selected as one of 34 places hosting events as part of the Paralympic Torch Relay.
Needham Market will host a Flame Celebration over the bank holiday weekend of 24-29 August.
The town's Flame Ambassador, wheelchair basketball player Amy Nettleton, will collect part of the flame in London.
She will bring a lantern back to Needham Market for two days of celebrations ahead of the London 2012 Paralympic opening ceremony.
Ms Nettleton, 25, is a local artist who plays basketball for the Bury Bombers and for the regional Eastern Blue Stars team.
She said: "Needham Market is at the centre of Suffolk so it's the most accessible place geographically and it's in one of the districts that the Olympic Torch isn't going to.
Overcoming challenges
"I think there's going to be a big celebration in the town over that weekend.
"The full details are yet to be finalised, although it will include a lantern procession and celebrations at Needham Lakes."
Amy has been paraplegic since she was 18 when she had the movement disorder dystonia.
The London 2012 Organising Committee said she has been chosen as an ambassador because she had worked hard to overcome the many challenges facing her both as an artist and athlete.
Although she is not in contention for the British Paralympic squad, the Blue Stars includes Caroline Maclean, Emily Scrivener and Amy Conroy, who are all hoping to be picked.
Zoey Furzer, arts officer at Mid Suffolk District Council, said: "Needham Market is an idyllic place in which to celebrate.
"We look forward to welcoming people from all across Suffolk to celebrate later in the year."
Philip Williams, chief executive from the Suffolk disability charity Optua, said: "Optua will be involved in making sure that as many people in the county as possible get to see the flame."
The Needham Market lantern is not part of a relay, unlike the Olympic Torch which istravelling through Suffolk.
The Paralympic relay involveswhich are united in the Paralympic Torch at the national centre for disability sport in Stoke Mandeville, Buckinghamshire.
The torch is then taken to the Olympic Stadium for the opening ceremony on 29 August.