Haverhill fire's dirty water poses pollution risk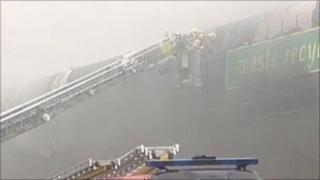 Water which may be contaminated after firefighting operations at a Suffolk waste plant is being collected to stop it getting into the environment.
The fire started inside the WRG waste transfer station warehouse on the Homefield Road Industrial Estate on GMT on Monday lunchtime.
The Environment Agency said tankers were collecting used firefighting water to reduce the risk of pollution.
Fire crews are expected to still be at the site on Wednesday morning.
Smoke has been billowing from the warehouse, which was estimated to contain 150 tonnes of waste destined for landfill.
Burning waste
Crews cut holes in the roof to tackle the fire while people living nearby were told to keep their windows and doors closed.
A spokeswoman for the Environment Agency said the firefighting water could have been polluted when it came in contact with burning waste at the site.
She said there could be a risk to the water course in the area if it was not contained.
The Environment Agency has also told the company that, once the fire is out, it cannot accept any new waste until buildings have been repaired and fire prevention equipment installed.