Suffolk's Euston Estate farm fears over water shortages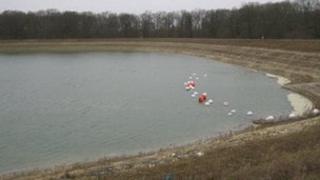 A Suffolk farm has reduced its irrigated crop production by 20% due to its reservoir being half full.
The Euston Estate near Thetford has cut its potato, onion and carrot planting by 200 acres (80 hectares).
The farm's 100m gallon (454m litre) reservoir is depleted due to limits on the amount of water that can be taken from the Black Bourne river.
Andrew Blenkiron, estate director, said it would cost it thousands of pounds.
"Financially it will cost us £70,000 to £80,000 in lost profits, but we can only work with the water we've got," he said.
"We're cutting back production to ensure we have water security to enable enough crop to reach harvest."
'Red tape'
The planned crops will be replaced by less profitable crops such as rape and maize which do not require irrigation.
The estate wanted to use a fast-track agricultural planning process to start building a 60m gallon (270m litre) reservoir this summer ready for the winter.
However, St Edmundsbury Borough Council has said planning laws mean a full planning application must be submitted which would require environmental and archaeological surveys to be carried out.
Mr Blenkiron said: "I've heard of similar reservoirs being granted permission under the prior notification regulations, so we're very disappointed and it's going to put us back at least one year.
"We're trying to do everything that Defra says we should in terms of winter water storage, but we're coming up against red tape."
The farm has permission to begin taking water from the River Little Ouse, which is why it needs the second reservoir.