Bramford waste recycling site closed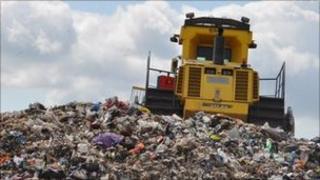 A household waste recycling site in Suffolk is to close as the firm which took it over from the council said visits were down by two-thirds.
Suffolk County Council closed seven of its 18 sites last year.
Bolton Brothers re-opened the Bramford site in September for a six-month trial period and introduced some charges.
Reuben Bolton, commercial director, said: "Without any funding from government, this project is not sustainable based on the low usage."
Although the firm initially only charged for waste bound for landfill, managers said they had to introduce charges for wood and garden waste of £6 per car or trailer.
Free site
Mr Bolton said the council's figures showed the site had previously had 90,000 visits a year, but it was heading for 30,000 a year now.
The council still runs a free site three miles away in Ipswich.
A council spokesperson said: "Suffolk County Council provided Bolton Brothers with the results of a traffic count survey that measured the number of vehicles going into the Bramford waste recycling site whilst it was still under the county council's management.
"It is a great shame that despite everyone's best efforts, Bolton Brothers have not been able to keep the site open.
"We will continue to work with local parish councils and will provide advice and support to explore other options."
The Bramford site will close on 11 March, but the firm said it hopes to provide a replacement service at its new £2.5m recycling facility in Great Blakenham in the near future.
Suffolk County Council closed other sites in Newmarket, Southwold, Ingham, Beccles, Brome and Chelmondiston as part of its £42.5m savings programme last year.
Commercial firms were found to run all the sites except for Ingham.
Bolton Brothers also took over at Brome, which will not be closing.