Haverhill Research Park aims to benefit from Cambridge's reputation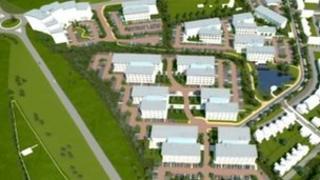 A £100m business park in Haverhill aims to benefit from its proximity to Cambridge and the city's technology sector.
Developer Carisbrooke Investments claims the Haverhill Research Park will create 1,000 jobs.
Nic Rumsey, director of Carisbrooke, said: "We see signs of [increased economic] activity in Cambridge itself.
"We hope there's only one way it can go, which is up."
Carisbrooke said firms should be able to move onto the park in 2013 and they will benefit from the CB postcode it shares with the Cambridge Science Park, Babraham Research Campus and Wellcome Trust Genome Campus.
The 30 acre (12 hectare) site, on the A1307, will also include a hotel, restaurant and housing.
Mr Rumsey said: "Arguably it's the best time to be doing it because we're laying the groundwork at what is hopefully the bottom [of the economic slump]."
Chris Rand, principal planning officer the council, said: "Historically Haverhill has looked to manufacturing and this will hopefully address the balance and will be looking to the research opportunities that exist in Cambridge.
"[Young people in Haverhill] go through the education system, go off to university and perhaps the employment opportunities aren't there for them to come back to, so this could offer the opportunity to retain people in the town."
Sarah Howard, chair of Haverhill Chamber of Commerce, said: "I can tell you from meeting with government representatives and business organisations that Haverhill is seen as a town that is growing in reputation.
"The development offers much needed research and office space that will fill a demand that is not currently met and will also bring new business and jobs to the town."