Suffolk Police Authority approves council tax precept rise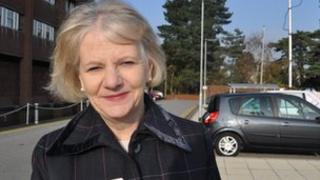 Suffolk police is to increase its part of the council tax by 3.75% from April, generating an extra £1.55m a year.
The Suffolk Police Authority said the money was needed to help it cope with cutting £17.7m from its budget over four years.
The police precept on a Band D household's council tax bill will rise by £6.03 to £166.77 for 2012-13.
The authority rejected the option of accepting a one-off government grant of £1.25m if the precept was frozen.
The overall police budget was set at £112.2m, which the authority said still means the force has to make £7m in savings for 2012-13.
Joanna Spicer, chair of the authority, said: "One of the reasons we made the very difficult decision about our council tax is so that the total number of officers in Suffolk doesn't fall too low.
Front-line officers
"The budget we set means that we can retain the number of police officers and community support officers that are working in what people think of as the front line."
The authority said it will allow them to build officer numbers up from 1167 to the chief constable's target of 1,200 over the next few years.
Matt Gould, chairman of the Police Federation in Suffolk, which represents ranks up to chief inspector, welcomed the budget decision.
He said: "We would have had to have made more redundancies and we could have taken some money from the government this year, but we'd have been faced with a similar problem next year."
Later this year, people in Suffolk will vote for the new post of police and crime commissioner (PCC) which will replace the police authority.
'Politics into policing'
Nick Herbert, the Home Office minister for policing, visited Ipswich to hold a roadshow about it.
He said: "The authority sets the force's budget, [policing] plan and appoints the chief constable, but it's not directly representative of the public.
"There are big questions about whether it's really right that at the moment you have an unelected, appointed body, albeit that there are some councillors on it, that is raising local taxation.
"We're saying this is such an important job that it should be done by an elected individual."
Ms Spicer, who is a Conservative county councillor, said the move would "bring politics into policing".
"There will be party political candidates in every area and policing to me is too important to be focussed on one individual," she said.
"The police authority is cross-party and the advice I get from other parties and independents is invaluable."
Voting for the 41 PCCs across England and Wales will be on 15 November.