Swedish 'tough love' school plans for Suffolk town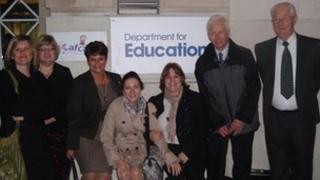 The first foreign company to run one of Britain's free schools has spoken about its plans to "teach to the highest standards and help students to become holistic, well managed, young individuals".
Internationella Engelska Skolen (IES) will manage the new Breckland free school in Brandon, Suffolk, from September.
It was chosen by local parents who said they were impressed with its academic results and its "tough love" approach to student development.
"We are passionate about education" said IES's chief executive Peter John Fyles.
"Our ethos is about working with young people and developing them to the best of their individual ability."
The company, which was founded twenty years ago, runs 17 free schools in Sweden and teaches more than 11,000 students. A further 62,000 are on the waiting list to join.
IES says parents are attracted by its results and its emphasis on discipline combined with pastoral care.
Mobile phone ban
"All parents and students when they join must sign a social contract," said Mr Fyles.
"It tells them the rules and they sign off on them so if someone comes to school with a mobile phone, which we don't allow, we instantly call the parents and say: 'Why have you broken the contract you made?'
"We also teach good manners. All our students will say 'good morning sir' or 'madam', they will say 'thank you' if they receive something and they will clear their tables after lunch."
Pupils are made to line up before going into class and taught to put up their hands if they want to speak in class.
There are games rooms for break times, a full time counsellor and nurse on duty and varied choices for lunch.
The company's founder, Barbara Bergström, said she and board members have recently been watching episodes of the documentary "Educating Essex" and were horrified at some of the behaviour which they saw.
She said: "How could parents ever allow their children to behave like that?
IES is one of a growing number of companies which run schools for a profit.
It has led critics to wonder if that puts the quality of education at risk as they try to cut costs to make money.
The student/teacher ratio in Swedish Free Schools is much higher than in state run schools.
But Mr Fyles said: "We'd be cutting off our noses to spite our face if we didn't employ good staff.
"Our results and the sheer number of people who want to be with us shows we must be doing something right."