Lowestoft's Bascule Bridge closed for 151 nights in five years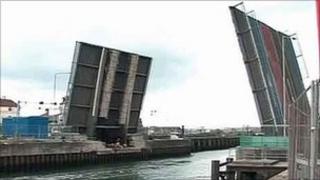 There are calls for Lowestoft's Bascule Bridge to be handed over to the county council.
It comes as a Freedom of Information request by the BBC shows it was closed for repairs on 151 nights over the past five years.
Its operator, the Highways Agency, said regular maintenance work has to be carried out on the raising mechanisms.
But Suffolk county councillor Guy McGregor said: "I'm sure we could do a much better job."
The drawbridge, which crosses Lowestoft harbour, was opened in 1972 and had an expected lifespan of 30 years.
The Highways Agency spent £2.3m carrying out refurbishments in 2008.
In 2011, there were 21 overnight closures of the bridge, according to agency figures.
David Pickiss, who owns a wine bar and nightclub in Lowestoft, said: "It's absolutely scandalous and it has a detrimental effect every time it's closed.
"We never get a rebate on business rates and there's never any compensation."
A Highways Agency spokesman said: "To ensure a safe working environment for our maintenance staff, it is often necessary to close the bridge to undertake many of these operations.
"Most closures are planned overnight outside of the main holiday season to minimise disruption.
"There are no plans to replace the bridge. The cost of doing so would be prohibitive and would cause major disruption to the area."
Mr McGregor said no formal request had been made to government to take over the bridge, but it was his long-term plan.
'Jobs will flow'
Referring to the 2008 refurbishments, he said: "That programme four years ago was totally mismanaged and there have been failings in terms of maintaining it adequately over the years.
"The road can still remain the Department of Transport's responsibility, but it could be managed by Suffolk County Council.
"[The council] can't go back and revisit the repair scheme, because that money has to come from government, but we could manage the maintenance of the bridge and the road closures much better."
There has been a long-standing suggestion that Lowestoft needs a third harbour crossing to support the town's economy.
Peter Aldous, Conservative MP for Waveney, said: "We've got to make the case with the councils to the government that if you provide the funding, then jobs will flow from that."