1993 £1m Felixstowe heist: Suspect Eddie Maher was 'bankrupt'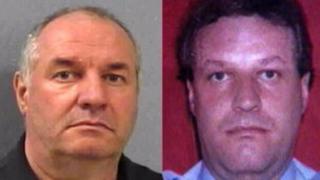 A man wanted in Suffolk over a £1m heist in 1993 was declared bankrupt with debts of more than $30,000 (£19,000) in 2010, American court papers have revealed.
Eddie Maher, 56, originally from Essex, was arrested on 8 February after being found in Ozark, Missouri.
Mr Maher had $85 (£54) in his bank account when he filed for bankruptcy.
He is due to appear before a court in America on 22 February for a preliminary hearing.
Anonymous tip-off
Mr Maher disappeared in 1993 after a security van packed with cash was taken from outside a bank in Felixstowe.
The former security guard, who had been living in South Woodham Ferrers when he disappeared, has been charged with immigration and firearm offences in the United States.
Bankruptcy papers filed in November 2010 revealed Mr Maher had got into financial difficulties.
They showed that he had $17,061 (£10,881) of loan and credit card debts.
He also owed $1,759 (£1,121) in hospital and doctors bills and $3,148 (£2,007) in unpaid tax.
Assets listed on the court papers included a rifle and digital camera valued at $170 (£108) and a 1997 Mercury Mountaineer car valued at $1,700 (£1,083).
He was working as a broadband technician and earned $1,896 (£1,208) a month. His monthly expenses totalled more than $1,807 (£1,151).
'Financial management' course
The papers also revealed Mr Maher and his family regularly moved home.
Between May 2007 and September 2010, they lived in three addresses within the Ozark area.
After being declared bankrupt in November 2010, Mr Maher was forced to complete a course in "personal financial management" on 13 December 2010.
Police in America arrested Mr Maher after receiving an anonymous tip-off that he was a "fugitive wanted in England".
Papers from a US District Court, in Springfield, Missouri, revealed Mr Maher cannot afford a lawyer.
Suffolk police is looking to start extradition proceedings to bring Mr Maher back to the UK.