Rob Challinor sleeping in garden hammock for a year for charity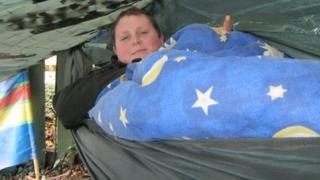 A 14-year-old boy is halfway through a year of sleeping in a hammock in his garden - to raise money for a charity which helped his sister.
Rob Challinor, of Suffolk, is spending his nights outdoors to raise funds for Magpas, which helped his sister recover from a horse riding accident.
He said: "A lot of people think I'm a bit mad to be doing this, but I'm enjoying it."
Outdoor temperatures for Rob have recently fallen as low as -16C.
He began his nights out at his home near Newmarket on 30 August 2011.
The teenager's hammock is under a tarpaulin canopy in the family's back garden and contains a sleeping bag, duvets, blankets and their boxer dog called Duke.
Rob said: "When I started it was quite mild, but it has been -16C (3F) and I didn't really feel it that much."
'Absolute nutcase'
His sister Kelly-Ann, 16, cracked her skull and had her face squashed when the horse she was riding threw her off and fell on her head in 2005.
The medical emergency charity Magpas sent one of its doctors from nearby Newmarket and Kelly-Ann was sedated, which Magpas said had prevented her from getting a brain injury.
Rob said: "When I first saw her [in hospital] I actually walked past her, because I didn't think it was her - I just thought it was quite a bad accident that person had had."
Kelly-Ann made a full recovery, returned to horse riding and is currently deputy head girl at her school in Cambridgeshire.
She said: "Part of me thinks he's an absolute nutcase for doing it, but I'm proud of him for committing himself to something so big.
"I don't really like the idea of sleeping in the cold when there's a nice warm bed upstairs."
Carol, Rob and Kelly-Ann's mother, said: "I think he's fantastic. He shows great resilience and it's a form of toughness really."
Rob is also raising money for the Child Brain Injury Trust, which his sister is a patron of.