Suspect in 1993 Suffolk raid cannot afford US lawyer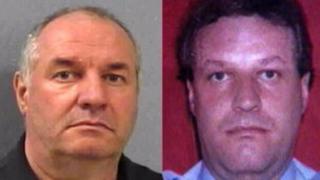 A man wanted in Suffolk over a £1m heist 19 years ago is "financially unable" to pay for legal representation, American officials have said.
Eddie Maher, 56, was arrested in the United States on Wednesday after being found in Ozark, Missouri.
He disappeared in 1993 after a security van packed with cash was taken from outside a bank in Felixstowe.
He told a judge at an American court that he could not afford a lawyer.
Extradition talks
The former security guard, originally from South Woodham Ferrers, in Essex, has been charged with immigration and firearm offences in the United States.
Court documents from Thursday's hearing at the US District Court, in Springfield, Missouri, revealed Mr Maher cannot afford a lawyer.
A spokesman for the United States Attorney's Office said: "The court found that he did not have the resources to have a defence attorney so the court appointed a federal public defender.
"Mr Maher testified on oath in court that he was financially unable to obtain counsel."
Suffolk police said officers had begun discussions with the Crown Prosecution Service about starting extradition proceedings to bring Mr Maher back to the UK.
Anonymous tip-off
The force, which is reviewing evidence from its original investigation, said officers were being updated on the legal proceedings in the US.
About 50 bags, containing £1m in £20 notes, £10 notes and coins, were stolen during the robbery at Lloyds Bank, in Hamilton Road, Felixstowe.
Police in America arrested Mr Maher after receiving an anonymous tip-off that he was a "fugitive wanted in England".
Mr Maher, who is believed to have been working in the US for a cable company, is being held in custody.
He is next due to appear in the American court on 22 February.