1993 Suffolk security van theft suspect held in US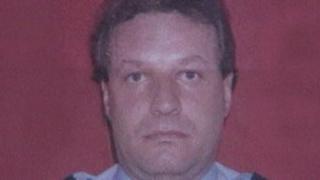 A former security guard wanted by police in connection with a £1m theft outside a bank in Suffolk 19 years ago has been arrested in the USA.
Eddie Maher, 56, originally from South Woodham Ferrers, Essex, was arrested in Ozark, Missouri.
He vanished in January 1993 after the security van theft outside Lloyds Bank in Hamilton Road, Felixstowe.
The van vanished and was later found empty on the seafront. Suffolk police is talking to the US authorities.
A spokesman for the force said: "We are liaising with the US authorities regarding the detention of Eddie Maher, who police wish to speak to in connection with a security van robbery in Felixstowe in 1993."
Mr Maher is believed to have been working in the US for a cable company.
Police believe 50 bags, containing £1m in £20 notes, £10 notes and coins, had been transferred into a Toyota Previa Space Cruiser vehicle with false number plates, stolen earlier in London.
The Toyota was then driven to a car park on the nearby Landguard peninsula.
It is believed the money was transferred again into a car later found burnt-out in Essex.
A US Immigration and Customs Enforcement spokesman confirmed Mr Maher had been arrested on immigration charges and charges of being an illegal alien possessing firearms.
A spokesman for the United States Attorney's Office said Mr Maher appeared at the US District Court in Springfield, Missouri on Thursday when the charges were read out.
He will re-appear at the court on 22 February.