Felixstowe's Spa Pavilion set to remain open until next year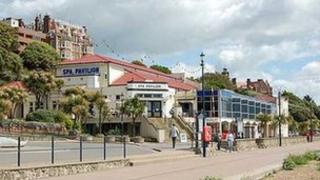 A closure-threatened theatre could remain open until at least January next year, a council has said.
Suffolk Coastal District Council had voted to stop the £250,000 annual subsidy it gives to the Spa Pavilion in Felixstowe.
Now the authority hopes the venue can remain open for a minimum of another 11 months as long-term funding options are explored.
Lisa Hardy, from the Save the Spa campaign, said: "It's excellent news."
She added: "It gives you faith that local government does listen.
"A date of October had been suggested so to get until early January is a fantastic result."
She said she was "hugely hopeful" about the long-term future of the theatre.
'Unaffordable funding'
In December, the district council said it could not afford to spend £250,000 on annual maintenance and £3m to bring the theatre "up to modern standards".
It had been warned the theatre could close in June if alternative funding was not be found.
The council said talks would take place with Openwide Coastal, the theatre's current managers, about continuing the contract until January.
Geoff Holdcroft, the council's leisure and economic development cabinet member, said: "I hope we can reach agreement with Openwide so it will remain open until the conclusion of next Christmas' programme.
"Our primary goal remains unchanged - we hope to find a long-term future for the Spa, whether that be with a new local trust running the building or outside established companies with new proposals, which is not dependent on unaffordable funding from this council."