Lowestoft reveals Local Development Framework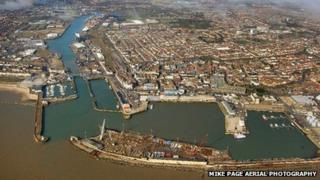 Planners say all the key documents are in place to attract energy and manufacturing firms to Lowestoft.
The completion of the Lake Lothing & Outer Harbour Area Action Plan means Waveney District Council's Local Development Framework (LDF) is ready.
The LDF includes plans redevelop 250 hectares of former industrial land.
Colin Law, council leader, said: "Adoption of the plan is the final piece in the jigsaw for this exhaustive and hugely important piece of work."
Last year, Lowestoft was granted Enterprise Zone status by the government which gives businesses who set up in the zone area five years of rate relief up to a maximum of £275,000.
'Providing certainty'
With the loss of the fishing industry and manufacturers such as Sanyo, the LDF aims to take advantage of the growth of the offshore energy industry.
Desi Reed, planning policy manager at Waveney District Council, said: "The opportunities are there because we've got the workforce with local colleges providing courses to train people.
"We've got the land, interest from energy companies and I think over the next 12-18 months we'll start to see things happening."
Unemployment, which was over 10% in the early 1990s, was 4.3% (3,008 claiming Jobseekers Allowance) in the Waveney district in December 2011.
Richard Perkins, a director of Suffolk Chamber of Commerce and a commercial property surveyor in Lowestoft, said: "Unemployment is below the national average and lower that some other parts of East Anglia, which is unusual because historically they've always been considerably higher.
"Norwich is still a top 10 destination for retail nationally and it has a big drag on other centres in East Anglia.
"But the retail offer in Lowestoft is not strong and it will need a growth in the town's population and economy to sustain the present retail activity and enable growth of it."