Snowman on eBay for East Anglian Air Ambulance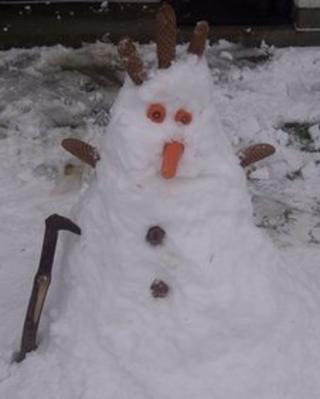 A snowman is being sold on the internet auction website eBay to raise money for the East Anglian Air Ambulance.
Peter Rawlings, 26, built Frostie at his home in Stowupland in Suffolk.
The description on eBay warns that the product "may come in liquid form" and needs to be collected in person. Mr Rawlings said: "We've said he can be recreated, so bring a bucket."
Bidding for the snowman ends on Friday and the item can be found on eBay under collectables.
Mr Rawlings joked: "He's been with me for 20 odd years in my life, but he wants to see a bit further out in the world.
"A few people have whinged that I'm auctioning off a friend of mine, but what we want to do is find him a good home and get some money for charity."
Helen Dodman, of the East Anglian Air Ambulance, said: "It never ceases to amaze me how imaginative some of our supporters are and I just hope Frostie finds a new home soon."