Sizewell nuclear power station visitor centre to re-open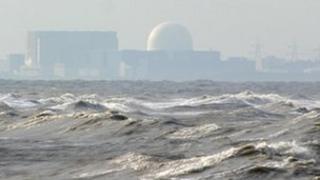 The visitor centre at Sizewell nuclear power station is to re-open, a decade after it closed in the wake of the 11 September terrorist attacks.
EDF Energy, which owns Sizewell B, said it will have a temporary centre near the plant on the Suffolk coast open by the autumn.
The company said it would also create a permanent purpose-built centre.
Anti-Sizewell campaigners claimed it would be unlikely to focus on the arguments against nuclear power.
Jim Crawford, director of Sizewell B, said: "We're all very proud of the industry we work in so I think visitor centres are a very positive thing.
"[The closure] was in response to the security threats that were perceived at that time, but now we've tried to get round those issues.
"It'll be off-site with exhibitions and presentations, but we will still be making arrangements to get people on-site to actually see the power station."
'Sup with the devil'
EDF Energy wants to build a new reactor called Sizewell C although no planning approval has been granted yet.
Charles Barnett, chairman of the Shut Down Sizewell Campaign, said: "With any visitor centre from the nuclear industry, you need a long spoon to sup with the devil.
"They will gloss over any deficiencies within the industry such as disposal and storage of nuclear waste, inadequate emergency plans in the event of a disaster and protection from terrorist attacks."
Local councillor Tony Cooper, an independent on Suffolk Coastal District Council, said: "[The old visitor centre] was something of great interest to visitors to the area in the spring and summer months.
"Visitors will be able to see what nuclear power is and that's not a monster - it's something that gives us the electricity we need to live with."