Pyotr Melaniuk sought over Peter Avis jeweller death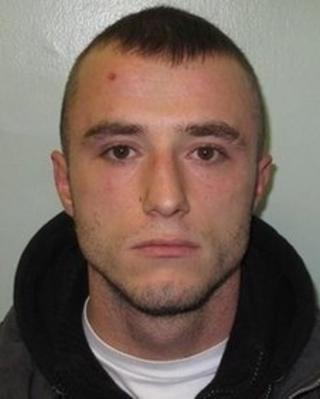 Posters are to be put up in London of a man wanted over the murder of a jeweller at his home in Suffolk.
The body of Peter Avis, 66, was found on 13 January above Collis and Son in Abbeygate Street, Bury St Edmunds.
Officers want to speak to Polish man Pyotr Melaniuk, 28, who they believe has contacts in the Tottenham, Hackney and Stoke Newington areas of London.
Three men have been charged in relation to the death and a man and woman are being questioned.
A police spokesman said officers would continue their inquiries in London over the next few days and would place posters in English and Polish in shops, on noticeboards and within local communities.
Mr Melaniuk is also thought to go by the names Irek Marciewicz, Pyotr Kelaniuil, Kamil Wislak and Ireneusz Melaniuk.
The two middle fingers of his right hand above the knuckles are missing, as is the thumb from the same hand.
'Do not approach'
He has tattoos on his hands and a spider tattoo on his right arm.
He is also known to have connections in Brighton but police said he could be anywhere in the country.
Det Supt Julian Gregory said: "We would like to hear from anyone who may have seen Mr Melaniuk recently or, more importantly, anyone with information about where he is now.
"I would stress that if anyone does see Mr Melaniuk or someone they suspect to be him, they should not approach him but should call police immediately using 999 if necessary.
"We would like to reassure the public that we are working closely with other forces to apprehend this man as soon as possible."
A 20-year-old man arrested on suspicion of murder and an 18-year-old woman arrested on suspicion of assisting an offender are in police custody.
Pawel Pacian, a 34-year-old unemployed man from Lake Avenue in Bury St Edmunds and Pawel Borowiecki, 30, of Roslyn Road in London, have been charged with conspiracy to commit burglary.
Kamil Kita, 20, no fixed abode, has been charged with murder and was remanded in custody by Ipswich magistrates on 26 January.
Six people have been bailed to return to police in March.