Leiston residents angered by Sizewell B compensation scheme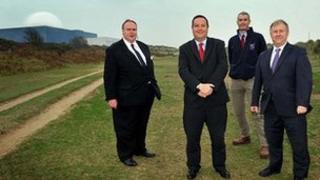 Residents of Leiston say it is unfair that a £120,000 compensation scheme from Sizewell B operators EDF Energy will not directly benefit the town.
EDF says the Amenity and Accessibility Fund will support projects which benefit the Area of Outstanding Natural Beauty which surrounds the station.
The fund is to mitigate the impact of a new onsite dry fuel store.
EDF said groups in Leiston could not apply for funding, but residents would benefit from improvements to the area.
Charities, businesses and individuals are being encouraged to apply for funding, but EDF says it must be for projects "within the locality of the Sizewell B site and its wider AONB and Heritage Coast vicinity".
Leiston Town Councillor Colin Ginger said it was unfair that groups as far away as Hollesley or Orford could apply for funding but Leiston, which is within two miles of the nuclear power station, is exempt.
Local benefit
He said: "We've got it in our backyard and everybody else is going to get the benefits of the compensation scheme up and down the coast."
Sizewell B director Jim Crawford said the structure of the fund was "driven by planning regulations and by law" but insisted Leiston residents would benefit from the money.
"They will benefit from the fact that it will upgrade the area of outstanding natural beauty," said Mr Crawford.
"People of Leiston will obviously be very welcome to have walks round it, use it, etc, but the fund and what it covers is defined by law."
Spent fuel is currently stored in the fuel storage pond, which is expected to run out of capacity in 2015.
Work on the new store, which will be built on a car park, is due to begin this summer.
Leiston county councillor Richard Smith, chairman of the new fund, said it was good for the town.
The Conservative councillor said: "Two of the three decision-makers, Andrew Nunn and myself, are both Leiston councillors and we will be battling to get the best value we can out of this fund for Leiston as well as taking a wider view for the benefit of the whole Area of Outstanding Natural Beauty."