Royal British Legion help ex-service personnel in police custody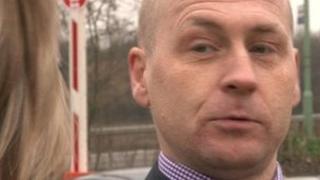 An ex-serviceman who had been getting in fights in Suffolk is crediting a new project for turning his life around.
Peter Shefford, 36, served with the Army in Bosnia and Northern Ireland, where he witnessed the Omagh bomb in 1998.
He left the Army in 2000 and, after his parents died, he said he started drinking more and getting involved in fights, often with police officers, in Stowmarket and Bury St Edmunds.
"I had a combat mentality and was looking at anyone in uniform as a threat or a potential threat," he said.
"Violence is a drug and my biggest problem was the buzz you get from fighting.
"I am ashamed of it, but also grateful for it, because it enabled me to get the help I so desperately needed."
'Willing to help'
The Royal British Legion [RBL] ran a pilot scheme in Bury St Edmunds where the police alerted them about former service personnel in custody who may need help with addictions, housing or employment.
A RBL volunteer, who worked as a detention officer at the Bury St Edmunds Police Investigation Centre, identified six people during the project's six month trial who he felt might need their help.
The legion gave Mr Shefford support with housing and put him in touch with organisations who he said helped him with his post traumatic stress disorder and drinking problem.
He enrolled on a tree surgery course at Otley College and now runs his own gardening business in Haverhill.
"I realised that I was no longer on my own and that there were people out there who may not be able to understand what you've been through, but are more than willing to help you," he said.
Adrienne Wakeling, the legion's Suffolk county manager, said: "Working with Suffolk Police is proving an excellent way to reach some of the people who might not feel comfortable approaching us directly."
The scheme is being introduced at the Martlesham Police Investigation Centre near Ipswich in February.