London 2012: Suffolk's £8m Olympic boost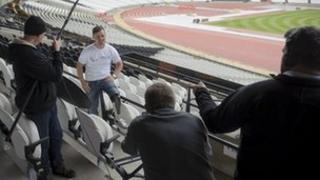 Twenty nine contracts totalling £7.9m have so far been awarded to Suffolk companies working towards the London 2012 Olympic and Paralympic Games.
Bruizer, a Rendlesham-based production company, has already made several films in the build up to the Games.
Bury St Edmunds company CNet Training trained unemployed people living near the Olympic site and Suffolk County Council won a transport contract.
Organisers say contracts worth millions of pounds are still up for tender.
Kate Brown, one of 10 employees at Bruizer, said the films had included a mascot competition and a profile of children learning to swim in Bangladesh.
But the highlight came from two films about the Olympic Truce Resolution.
United Nations
She said: "London 2012 were so pleased they showed them at the United Nations General Assembly in New York in October.
"It was presented by Seb Coe and all 193 member states have agreed to co-sponsor the truce resolution."
Ms Brown said the contract has been worth between £500,000 and £1m for Bruizer.
Contracts for the Games are publicised by CompeteFor, which is funded by groups including the East of England Development Agency (EEDA).
David Coulson from EEDA said: "It's a fantastic figure - £7.9m is an estimate and it could be higher."
Mr Coulson has been overseeing the project for three years but said he was still surprised by the contracts that become available.
"If you're an engineering company, if you want to build the trays that carry the medals out to the games, that contract is up at the moment - they need 500 of them.
"One that's just gone was to do with the alloy wheels for the vehicles in the Games."