Southwold cliff footpaths plans go on display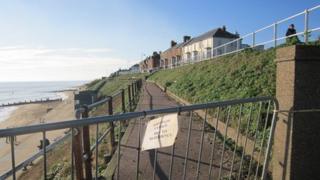 Plans to restore a Suffolk town's seafront footpaths, which have been behind barriers for two years, are going on show.
The Ladies Walks below Southwold's North Parade have been closed due to cliff slippage since summer 2010.
Two options for them are on show at the Town Hall on 9 February.
Sue Allen, Waveney District councillor, said: "It is a blot on the landscape, but the way the council has to go about these things takes a long time."
About 30-40 yards of the cliff has been behind barriers to prevent people using the footpaths which criss-cross it.
Ms Allen said: "We closed it down because the railings were rusting and the paths were cracking up.
Rabbit activity
"Once we decide on which option, it will be costed and go through the planning process."
NPS Property Consultants, which has been contracted to produce the restoration proposals by Waveney District Council, said the paths had been largely unchanged since they were originally laid out 1904-27.
The two options include a traditional one using pre-cast concrete and a retaining wall, or a contemporary one using a steel path raised above the soil on posts.
Sue Bowyer, consultant from NPS, said: "The problem is the soil creep caused by human and rabbit activity and a lack of vegetation due to lower rainfalls.
"There'll be a certain amount of re-landscaping with either option."
The plans are on show at Southwold Town Hall from 10:00 until 13:00 GMT.