Dormice discovered at Alton Water reservoir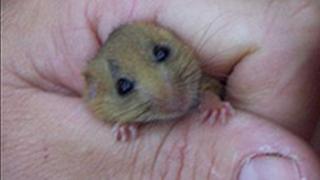 Dormice have been recorded at Alton Water reservoir near Ipswich for the first time.
The endangered rodents were thought to be in the area after staff at the Anglian Water site discovered a nibbled hazelnut last summer.
Suffolk Wildlife Trust helped erect nest tubes and later found dormice in three of them, with a further six containing nests.
Simone Bullion, from the trust, said: "This is a very exciting discovery."
The dormice are known to populate nearby woodland but previous surveys at the reservoir had been futile.
The trust said it was possible the dormice had crossed the A137 to reach scrub and woodland habitat around the reservoir.
Simon Waters, head warden at Alton Water, said staff and volunteers had been working to make the site more inviting to plants and wildlife.
He said: "Now we know they are here we will be able to manage the site accordingly and make sure Alton Water continues to be an inviting habitat for this nocturnal mammal."
More hazel and honeysuckle are to be introduced to the site along with 50 permanent nest boxes.