St Mary-at-the-Quay church renovated by Suffolk Mind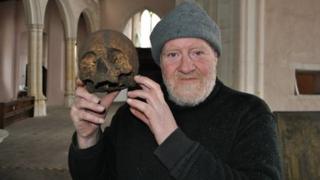 A derelict church near Ipswich waterfront is being converted into a £4m community and therapy centre.
The mental health charity Suffolk Mind and the Churches Conservation Trust are behind the regeneration project for St Mary-at-the-Quay in College Street.
Mind said it wanted to create a Wellbeing Heritage Centre which would provide "life-enhancing activities".
Archaeologists are excavating the graveyard before an extension is built on to the church.
Sue Gray, business development officer for Suffolk Mind, said: "One of our key missions is emotional well-being for the community as a whole, rather than just those diagnosed with mental health problems, and this is a project that addresses that."
Mind said the money would be spent on installing heating and lighting, building a mezzanine floor in the nave, creating a medicinal plant garden and a two-storey extension with eight rooms which can be rented out to small businesses such as homeopathy therapists.
Roots and heritage
The plan is to use the main building for farmers' markets, NHS clinics, films, plays and for exploring local history in the oldest part of Ipswich, which dates back to the Anglo-Saxon period (5th-11th centuries).
Funding is from various sources including Suffolk Mind, the Churches Conservation Trust, Heritage Lottery Fund, English Heritage and a European Union fund called 2 Seas Interreg.
Jo Searle, chief executive of Suffolk Mind, said: "It's not a mental health centre, but somewhere where everything that goes on is related to making you feel good or better about yourself, even if it's just having a coffee in a nice place.
"This church can provide a focal point for remembering our roots and our heritage.
"There's a real link between the environment you're in and how you feel emotionally."
A two-week excavation is looking for evidence of the human history of the area.
Old shoreline
It is believed the church was built, or possibly re-built, between 1450 and 1550 and it ceased to be used for worship after World War II bombing in 1943.
A one-metre deep pit has been dug in the graveyard where bones and Saxon pottery have been found.
Stuart Calow, from the Norfolk Archaeological Unit, said: "We've discovered a floor that seems to have faced the street and was older than the church.
"Once we've removed the burials, we'll dig further down and look for Anglo-Saxon evidence of the old quay front or shoreline."
Mind said the renovated centre would also provide information to visitors about the history of the area.