Hessett pub The Five Bells could fill meals-on-wheels gap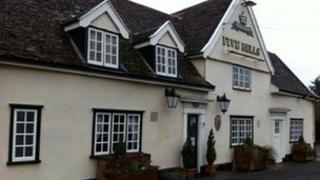 A pub plans to fill a meals-on-wheels gap as Suffolk County Council prepares to shut its service to the elderly.
The Five Bells in Hessett is looking for volunteers to help provide meals, alongside the existing service, if sponsors sign-up to the plan.
County council subsidies for the service stopped in 2011 leading to a rise in meal prices from £3.55 to £5.
A council spokesman said it was aware of the plan and would consider working with private providers from 2013.
The service is currently supplied through charity WRVS, whose contract with the council expires next year.
Landlords Louise and David Anthony will hold a meeting at the pub on 6 February, to gauge how many people would help with the service.
They plan to start supplying meals to people living within a five-mile radius, from March.
Mr Anthony said: "The idea is simple, it's just building a network of supporters, people willing to donate their time or produce to support what otherwise is a failing idea.
"The fact that the government can't afford to support the meals on wheels campaign any longer means the locals have to step in and support their own, like it used to."
The couple took inspiration from The Hairy Bikers' recent Meals on Wheels TV series, which campaigned to keep the service.
"They were very inspirational," said Mr Anthony.
"Their whole concept is cooking fresh to order, which is what we do, but it's quality rather than rubbish food.
"I don't see any reason why somebody sitting at home who is elderly or disabled has to get lower standard food just because they're either a pensioner or unable to get out and about."
A council spokesperson said that along with working with potential private providers it would explore the possibilities of the voluntary sector taking over.