Students learn from crash test boat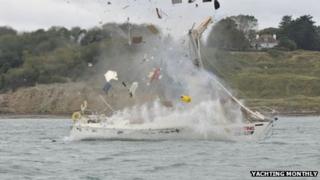 Students at a Suffolk college are gaining hands on experience of the dangers of sailing.
The International Boatbuilding College at Oulton Broad, near Lowestoft, has been given a crash test boat.
Manager Jon Richardson said: "Students can see the potential problems and get an understanding of the safety factors."
He said the facility would help students gain practical knowledge which the industry is calling for.
The crash test boat will be used to teach repairs and safety but will not be put through the extreme tests seen by Yachting Monthly, which donated the boat.
"The whole cabin top has been blown off," said Mr Richardson.
"The Royal Navy filled it with gas and proceeded to blow it up - they had crash test dummies inside which went flying out...
"I've seen so many mistakes where people have switched the gas on and gone to find the matches.
"By the time they come back and light it, it goes up."