Brain tumour patient, 7, launches children's charity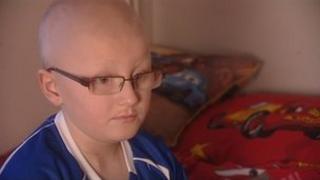 Seven-year-old Mason Fountain has spent most of the past two years fighting cancer - and now wants to help others do the same.
The Ipswich schoolboy, who was diagnosed with an inoperable brain tumour in April 2010, underwent 20 months of chemotherapy and has made numerous visits to hospital.
But as he continues to defy his illness, he is switching his attention to providing support for other sick children.
He has raised more than £4,000 for Brain Tumour UK, mainly through internet donations, and is set to start a charity in his own name - Mason's Magic.
He has also gained more than 10,000 followers on Twitter, less than a month after joining the micro-blogging site.
'Reduced to tears'
Mason's charity, due to be up and running by March, aims to help grant wishes to children with brain tumours.
"My aim is to gain support with the help of my family and to raise as much money as possible so that we can make other children's wishes come true," he said.
He came up with the idea after meeting the band N-Dubz through the children's charity Rays of Sunshine.
His mother, Shelley, 29, from Ipswich, said: "He was lucky enough to be granted his wish and now wants to help other children with brain tumours.
"He is so excited about it. It is incredible what he has achieved. It has reduced me to tears several times.
"Since we set up the Twitter account for the charity it has just gone crazy."
Mason was told earlier this month that his tumour had shrunk by 20%.
He is set to undergo more tests in the coming months as doctors monitor his condition before making further decisions about his treatment.
His family say he is attempting to live a normal life, despite suffering from aches, pains and becoming easily tired.
Since completing his course of chemotherapy in December he has returned to school on a part-time basis.
The Ipswich Town fan is also a regular visitor to Portman Road to see the Championship football team in action, along with his mother and brother, Jack, 13.
Internet message
Mrs Fountain said the family, including father Kevin, 37, who runs a removal firm, and Mason's sisters, Kloie, five, and Scarlett, two, had struggled initially to cope with the diagnosis.
"It has been really hard but you just have to get on with it," she said.
"It's been hard for Mason's brother and sisters, especially Jack because he's old enough to know everything about it.
"It's hard seeing him ill and lonely as well. He wants to be normal, he wants to go out and play and he can't do that."
In a message on a website set up to promote his charity, Mason said he was determined to stay positive.
"Since my diagnosis, I have met a lot of other children going through the same thing and I have decided I want to make as many children as possible smile and stay as positive as me," he said.
And he had a message for other children diagnosed with brain tumours: "Keep positive and if I can do it then you can."
Family friend Angela Gregg, 45, who is also a brain tumour patient, said: "It's amazing what Mason has achieved in raising awareness of the condition.
"Being positive is his logo. He's always smiling. He is just very caring and wants to give something to others."