Arrests after Lowestoft drugs factory police raid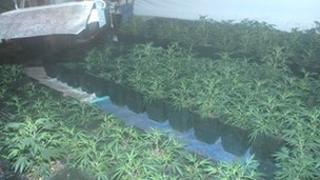 Three men have been arrested after a cannabis factory in Suffolk was raided and plants valued at £300,000 seized.
Police raided the property in Whapload Road, Lowestoft, on Saturday and found more than 600 cannabis plants and 100 seedlings.
They also found equipment for growing the drug.
A 22-year-old man was arrested. Later two men, aged 40 and 64, from Great Yarmouth, Norfolk, were arrested.
All three were interviewed before being bailed to return to police on 21 March, while further inquiries are carried out.