RSPB fights south Suffolk electricity pylon proposal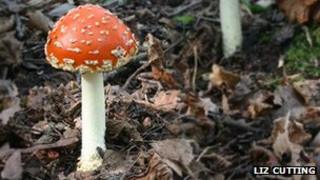 The RSPB has said electricity pylons must not be built through important woodland in south Suffolk.
The National Grid wants to put in new power lines from Bramford, near Ipswich, to Twinstead, near Sudbury.
One option is to go through Hintlesham Woods, which is a site of special scientific interest (SSSI).
John Sharpe, RSPB conservation manager, said: "These pylons would split the woods into separate parts and form a barrier to movement for animals."
The National Grid is considering two options for its preferred route for a 400,000 volt electricity connection.
One of the options goes through the SSSI, which is made up of Wolves Wood, Hintlesham Great Wood and Ramsey Wood.
Overhead or underground
The bird protection charity said the woods dated from at least the middle ages and were important for birds including the marsh tit and nuthatch, as well as plants such as green hellebore, herb-paris and wild service tree.
Mr Sharpe said: "The National Grid needs to acknowledge the importance of such a site for wildlife, for the environment and for the health of the local communities.
"The RSPB will fight hard to ensure that another route is used for this power line and that where possible, the line is buried not blighting the countryside."
The National Grid said it was consulting with the public, local authorities and other bodies, including the RSPB.
A spokesperson said: "As part of our consultation, we are giving detailed consideration to areas that would most benefit from placing cables underground.
"No decisions have yet been made about where the lines would go overhead or underground, or indeed, what route sections of overhead line and underground cable would take.
"We will of course take into account everyone's views as we develop a detailed design for the connection."
The National Grid said it would be submitting its proposals to the Infrastructure Planning Commission in 2013.