Suffolk County Council set to freeze council tax share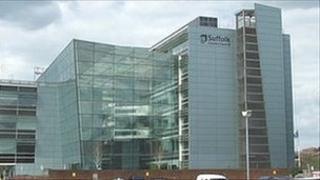 Suffolk County Council is set to freeze its share of council tax for the second consecutive year, it has said.
The Ipswich-based authority has published proposals that would save £26m from its £1bn annual budget.
The 2012/13 budget plan includes £8m of adult care savings, cutting management costs by £1.5m and reducing spending on office space by £700,000.
A final decision will be made a meeting of the council in February.
Conservative Mark Bee, council leader, said: "I've made it very clear that what I want to see from this process is the creation of a budget that saves money on back office and bureaucracy, protects, as much as possible, frontline services and keeps council tax down.
"I'm pleased that despite the financial circumstances we are facing, the proposals that have been drawn up meet these expectations."
The council, which has saved £43m in the current financial year, is looking to save £50m over the next two years.
Money to extend a council tax freeze in England to 2012-13 was unveiled by Chancellor George Osborne in October.
The government cannot force councils to freeze bills but made £805m available to authorities which do not impose tax increases.
The money would be found through efficiencies and involve one-off grants.