Councillors vote to defer Spa Pavilion closure decision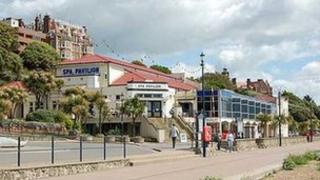 Campaigners fighting to save the Spa Pavilion in Felixstowe from closure are celebrating after a decision to cut its funding was deferred.
Suffolk Coastal District Council had voted to stop the £250,000 annual subsidy it gives to the theatre.
But on Thursday, the council's scrutiny committee voted to refer the matter back to cabinet to give campaigners more time to find funding.
Lisa Hardy, from the Save the Spa Campaign, said: "We are so pleased."
"Everyone feels this is very positive for the short-term future of the theatre."
Councillors had said audience figures had declined over the past four years, making the theatre unsustainable.
In December, the district council said it could not afford to spend £250,000 on annual maintenance and £3m to bring the theatre "up to modern standards".
'Breathing space'
Supporters were told the theatre would close in June if alternative funding could not be found.
But members of the Save the Spa Campaign group said they needed until January 2013 to find a long-term solution for the venue.
In its decision on Thursday, the scrutiny committee voted to refer the decision, to give campaigners an opportunity to find other options.
Mike Deacon, district councillor for Felixstowe North, said it would give supporters time to look at other funding possibilities, such as setting up a charitable trust.
"It will give them breathing space which is so important," he said.
The next cabinet meeting is on 7 February.