Pantomime's 'risky' jokes axed for American audience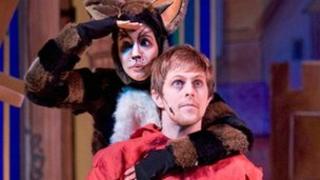 A production of Dick Whittington being staged in Bury St Edmunds has had lines removed due to fears they could offend American visitors.
Colin Blumenau, the Theatre Royal's artistic director, said a joke about spotted dick had been axed and they could not refer to the cat as "pussy".
He said the changes had been made ahead of a visit of American students.
"It's about two cultures having the same language but having different meanings for words," said Mr Blumenau.
"It's a family show and we try very hard to make sure everybody enjoys it, so there's no point in trying to offend people.
"If people say it means something else in our culture, you think about it and if it's not to the detriment of the show, which it isn't, you change it."
Mr Blumenau said the changes were only being made to two specific performances of Dick Whittington and his Cat, which runs until 15 January.