Suffolk Council probes Glemsford Primary School laptop deal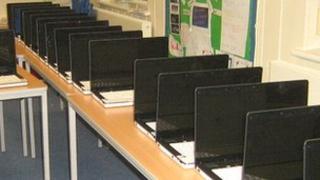 Suffolk County Council is investigating how a primary school was left with a bill for £500,000 for what it thought were "free" laptops.
Glemsford Primary said it unwittingly signed a deal leasing 100 computers, which the school said was on the basis that it would not cost anything.
The firm which supplied them, Direct Technology Solutions Ltd, then went into administration.
Its administrator has said it is carrying out its own investigation.
The case came to light as part of an investigation by BBC Radio 5 live.
The school has said the contract it signed means it is liable for the lease and owes the money to Clydesdale Bank.
The county council said it was looking at the deal and said it was not aware of any other schools signing similar contracts.
A spokesman for the council said: "Suffolk County Council was made aware of the situation at Glemsford Primary [on Monday] and has launched an investigation to discover the full facts and to see what can be done to help the school.
"We are not aware of any other Suffolk schools that have been affected. Until our investigation is completed, we are unable to provide any further comment."
Direct Technology Solutions Ltd has not responded to BBC inquiries, and the company's administrator previously said that because its investigations were at an early stage, it was unable to comment.
Russell Hamblin-Boone, from the Finance and Leasing Association, said: "Before entering into any contract [schools] should consult their local authority and look at the Department of Education website."